POTD - Two days in a row... Go me! Though I'm cursing Blogger right now. I'm STILL not able to upload photos. Yesterday I was able to upload my berries just fine, but today... no dice. WTH Blogger?!? Make up your flighty little mind already. In order to post photos, I now have to upload my photos to Photobucket, resize them so they fit my blog, and then copy and paste all the codes here. It's becoming increasingly annoying.

But let's ignore the fact that I'm ticked off at Blogger and look at photos from our trip to San Fran. I haven't posted many of them yet, so I'll try to take this week to share some of my favorites. To stay on theme... flowers at the top of Lombard street...



Kev and Rose...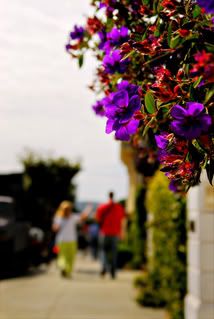 This city is no joke! You know it's serious walking when you need stairs to walk up a sidewalk...